Matt Pierson Artworks | Press Release| BYOB | Bring Your Own Burgers
Oct 19, 2019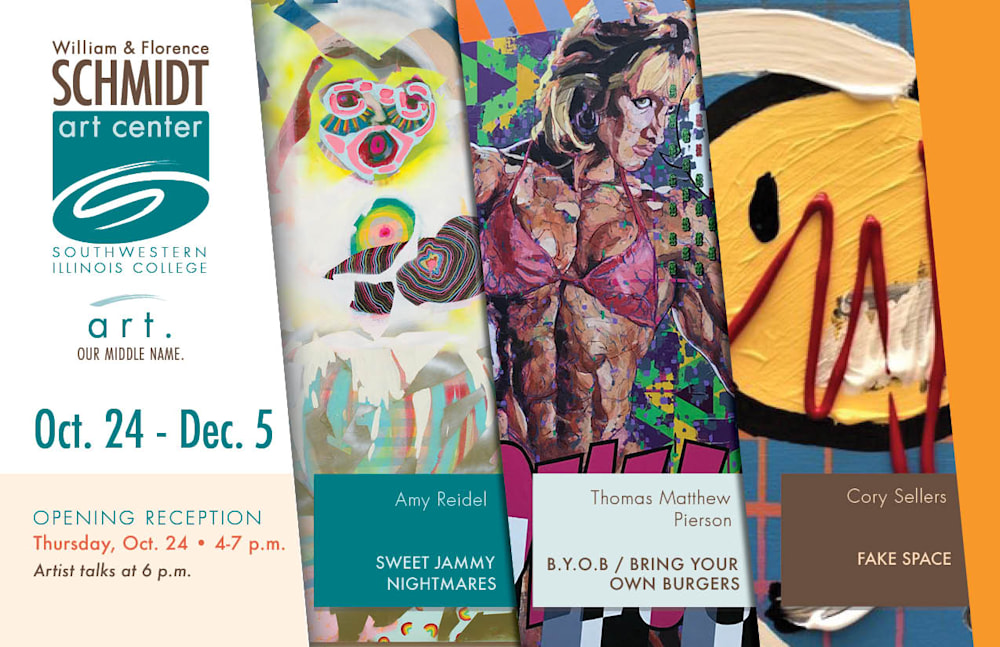 FOR IMMEDIATE RELEASE For more information:
Sept. 3, 2019 Dena Roland Woods
dena.rolandwoods@swic.edu

Explore burgers, bodybuilders, illusionism and abstract mixed media at The Schmidt Art Center
This fall, the works of artists Amy Reidel, Thomas Matthew Pierson and Cory Sellers, which range from mixed media to paintings to abstract spaces will be on display from Oct. 24 through Dec. 5 at William and Florence Schmidt Art Center.
An opening reception will be held from 4-7 p.m., Thursday, Oct. 24 and artist talks at 6 p.m. in the art center on the Southwestern Illinois College Belleville Campus, 2500 Carlyle Ave.
Art lovers will have a chance to view Reidel's abstract mixed media work that illuminates women and caregiver's experiences within the health and socio-political avenues; Pierson's paintings of the all-American hamburger and bodybuilders; and the chance to explore Seller's illusionism and pictorial drama within compositional spaces.
For more information about these exhibitions, The Schmidt, the art center's calendar of events and arts education programs, visit swic.edu/theschmidt or call 618-222-5ART (5278).