Matt Pierson Artworks | Artist Update | Rejection Letters | 2/15/20
Feb 15, 2020

Hello Art Believers!!!
I wanted to talk about something every artist has to deal with, THE INFAMOUS REJECTION LETTER!!! Oh my GOSH!!! It is the worst let me tell ya!!!
First, I want to backpedal a little by adding a little context to rejection letters. There are many places artists get exposure, up until recently it has been through Galleries. What you do not know is that there are many kinds' of galleries spaces, but let's break it down into two categories: profit and nonprofit galleries.
Nonprofit galleries are the bread and butter of the so-called-newbie artist, but professionals also frequent them as well. What you may not know, is that most exhibitions are actually competitions. The artist has to be accepted into the show, competing against other artists. The way this happens is through submitting work to a gallery. That is where a juror or panel reviews the work and accepts or rejects the work for the exhibition.
Guess what!!!! Not everyone gets accepted.
You can apply for many exhibitions at places like call for entry, cafe.org, entrythingy.com, and many more. There are many types of exhibitions. There are non-juried art shows, they are kind of like first come first serve shows. The shows where the gallery or space is wanting to fill up their walls. There are juried art shows, ranging from regional, national, and international shows. When you apply to national and international shows they carry more weight and grandeur than some regional juried shows. They are vastly more competitive. There are exhibitions with an entry fee and some with no fee.
There are gallery show proposals, they generally seek artist with a body of work and want a proposal with a theme or direction to the exhibition. There are grants with exhibitions. These are shows where you apply for a grant, but you also have to show proof of concept by providing work for a future show in the space. There are many more types of art shows such art fairs, to pop up shows. I personally rarely participate in art fairs, because I don't produce enough work to show in them regularly and they often entail you being at the fair for the weekend. That type of time commitment I can't give at the moment.
So now that you have a little context, imagine you are applying to your dream job. Let's assume your dream job has you apply using your resume, maybe a CV, maybe even a cover letter, and the standard follow up. So you applied for your dream job, and YOU DID NOT GET IT. Imagine doing that 10, 20, 30 times a year, then imagine actually having to pay to get your application reviewed. THAT IS WHAT Artists have to deal with, Over and Over AGAIN!!!! It is an incredibly time consuming and sometimes heartbreaking experience. Well, for me not so heartbreaking anymore, but it used to be.
When you are an artist and you are starting out and submitting to shows you will often strikeout, a lot. You will receive rejection letter after rejection letter, and it can be very upsetting... At first. Maybe I am an outlier, but I have been rejected from so many art-shows, that I really don't get emotional over it anymore. It's like many of my bad drawings.
Perhaps other artists have much better success. I think a good ratio would be accepted to a fourth of your submissions, roughly 25%. If you are doing better than that, fantastic!!! I am very happy for you. Getting into every fourth you submit is a good ration for local shows. When you start submitting to more substantial exhibitions, national and international exhibitions, your acceptance rate will be lower.
Then there are gallery spaces that want you to submit for solo or group show with a proposal. Those suck!!! They don't suck if you are getting in, but they are incredibly time-consuming and hard to get into. It involves what usually amounts to applying a CEO position for a Fortune 500 company. At least it feels like it, there are so many things you usually have to do.
Some want a paper about your proposed exhibition idea, some will want a budget, some will want you to show a mockup drawing of how you plan to use the gallery space.
They may want your art CV, your professional resume, exhibition record. They may want references. They may want images of past work and work you plan to be showing for the proposed show. Hours and hours of labor just for an exhibition proposal. Guess What!!! Only one to a handful will be accepted for the exhibition, just like a job.
Now let me state, that I am not complaining or mad about the system in place that artists have to navigate to get into exhibitions. It is there for a reason, and I believe works pretty well. I am writing about it because the average onlooker whom sees the work doesn't see the time it took to make the art. They also don't look at the process it takes for the work to get from studio to gallery space.
Rejection is one of the things artists have to deal with on a daily basis. You grow a thick skin and don't dwell on being shot down for too long. If so, you may not be an
Artist for long, or you are just incredibly lucky (if so you have no idea how blessed you are).
Currently, I choose my battles with more precision, I used to submit to almost every show that I found out about. I figured I had just as much a chance as anyone else, even if the subject matter really didn't fit the theme. Some art jurors don't necessarily follow the guidelines to the theme of the show. So figured why not. But now I only submit to shows I have about an 80% chance of being accepted. Sometimes, Ill submit to shows that I have almost no chance of getting accepted into. Those art shows constitute roughly about 20% of the shows I submit to. The reason for this is time and money. I have little time, have little money, so I have to choose my battles wisely and effectively. I can't do the shotgun method where I just blast every possible call for entry and hope for the best. I need to be more effective with my time.
Yes, of course, I will submit to some shows that I have almost no chance of being accepted into, but it is worth the opportunity and chance to expose your work to people of such high standing in the art business. I dont submit to them often though. They are incredibly time consuming to submit to, with many guidelines and restrictions.
Below is a rejection letter from one of the bigger art grant and exhibitions in the nation. I knew my chances were slim to none but the return on investment (ROI) to being accepted was too big to pass up.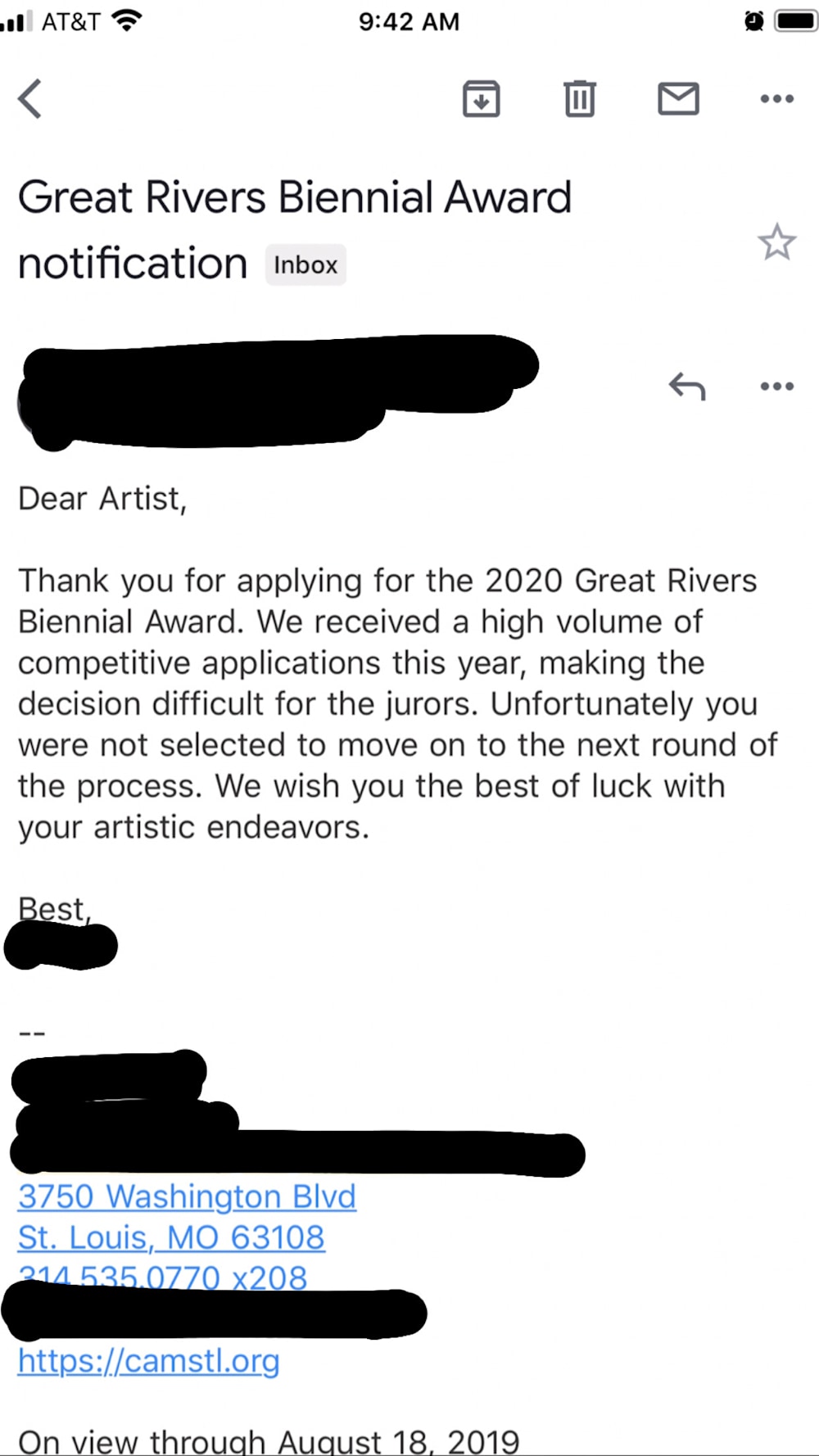 I don't submit to shows, exhibitions, or proposals as often as I used to. I guess I'm too invested in things outside of art exhibitions. My time is already stretched thin so I have decided to invest it into the creation of work rather than making proposals and submitting to shows for the opportunity to display my work.
I am not saying that I am a hermit. I plan on trying to get into 12 shows or venues this year to exhibit my work. Any more than that and I would impede on other important things I need to do throughout the month. So whenever you go to an art opening, art fair, and gallery, realize that there was a ton of work involved just to get into that art show. Outside of making the work.
I hope I have provided you with a little insight into the complex world of art and provided you with a bit of value.
Cheers,
Matt