Matt Pierson Artworks | Artist Update | Pokemon: Venusaur | 2/1/20
Feb 01, 2020
January 2020 is almost over!!!! OH NO!!!!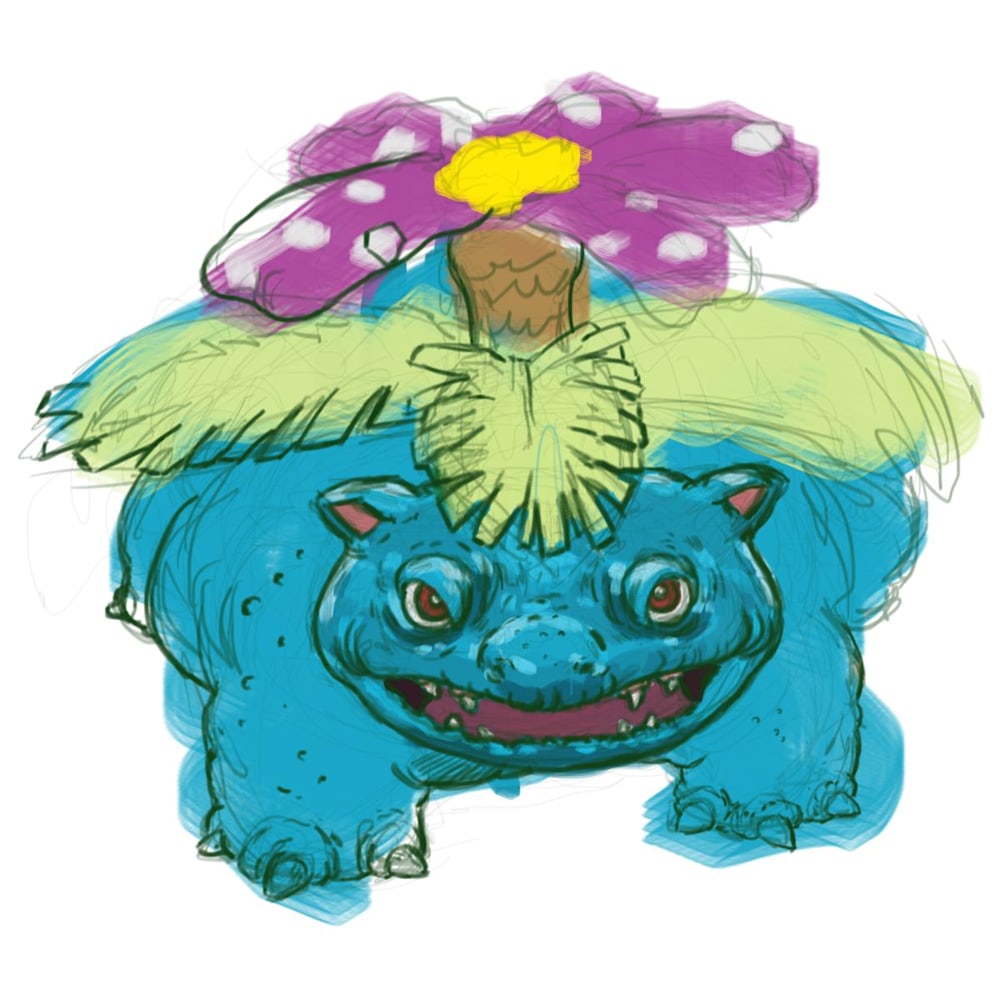 Hello True Art Believers!!!
WOW!!! I can't believe the first month of 2020 is over. I have been so busy trying to get my calendar structured, my most important task (MIT), and establishing some of my goals for the year that it has literally taken me a whole month just to get it all organized. Not going to lie, I am far from organized, but at least it is written down in some form or another.
One of the biggest struggles I am having with my art, is getting time to make it. I am the proverbial starving artist. Not lucky enough (yet) to quit my day job(s) and work fulltime as an artist. I say "jobs", plural, because I have three very demanding jobs from three employers, in two states. You can only imagine the mess I have to deal with when I have to do my taxes, just getting all the paperwork and organizing it all is a big ordeal. It can be a huge struggle.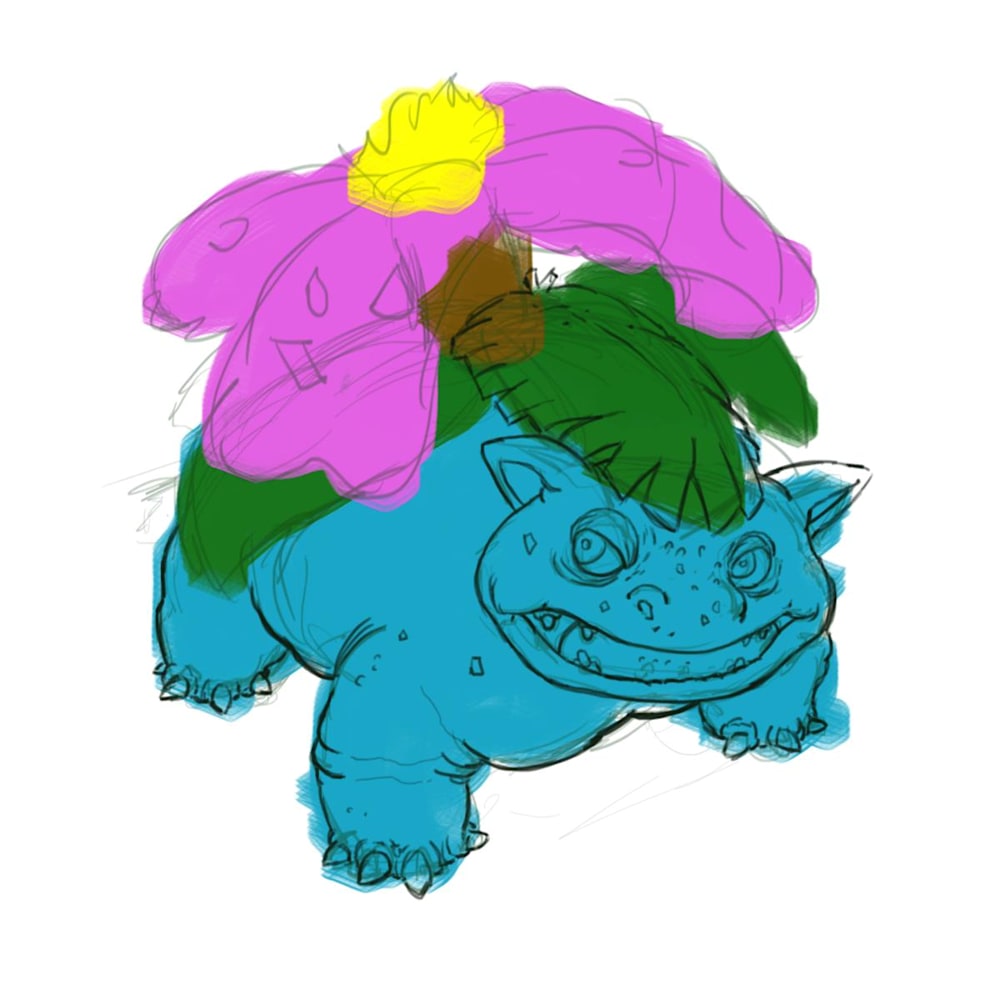 I have no problem with getting in my morning drawings, they are supposed to be the preamble, the pre-workout, the warmup session for the day. After my "warm up" I must go to work for one of my three employers, and when I get home do the whole parenting thing. You know the thing where you take care of your kiddo. After my kiddo is all tucked in tight for the night I need to go down to studio and get cracking on work. Often though I get stuck having to market my work on social media and pretty soon its 8:30 PM. Roughly thirty minutes before I generally go to bed, because SURPRISE!!!! I have a 4 AM wake up call. It's not that bad though, I still get in thirty minutes or work, which is thirty minutes more than yesterday.
The goal I am looking for is around two hours of deep work so my main focus is figuring out how to stream line my time management. But I have to say, it's as close to precise as I can get with having a little rugrat controlling what I do with most of my time. But I don't mind, she's flipping fun, 80% of the time. There is time when it is a struggle, but that is par for the course.
(A few days later)
I started this blog on a roll and life hit me hard, and I had to stop writing. But now I find myself not knowing what to speak about, nor do I have anything of importance to mention. The objective for this post was to discuss the end of the month. I thought I was navigating the month well until around the end. You must remain positive when the metaphorical chips are down, and I am not immune to such "chips". I could beat myself up and complain about not being as productive or getting as much as I would have liked done. But I must take what I learned and try to apply them to each proceeding month. It is a challenge. It takes honesty, often we don't want to be honest with ourselves.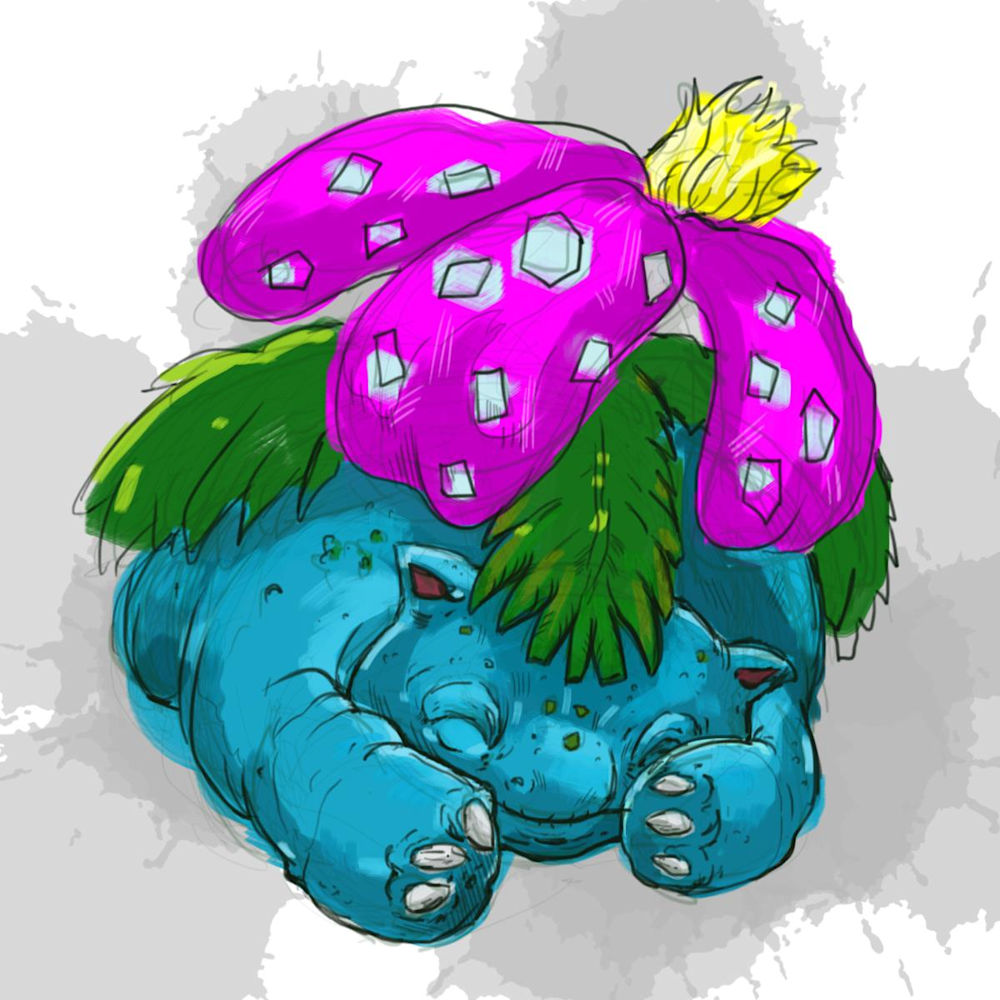 Being honest with yourself means addressing some of your flaws, and this is incredibly difficult. I try to address issues that are bogging me down by journaling. Sometimes you discover something about yourself things you knew deep down but never really considered it to be a problem. Writing things down makes it more concrete, it attacks the issue head on. It also can be discouraging. Discovering aspects about yourself is incredibly painful. Journaling opens a portal to your inner psyche. In a sense this blog post is a journal, it's a way to navigate myself in the world and my art. Talking about the struggle's artist have can be quite freeing. To be honest I have strong reservations on adding this to my blog. (I may even ask for second opinion on this later) (I did not.)
It is almost too revealing, to talk about journaling to attack your inner demons and solve problems. That is a foreign topic to most. But anyways as always, I went off on a tangent, similar in nature, but also completely different.
The month is about to end, and I am quite proud to have drawing close to thirty digital illustrations. I am also excited at the growth I have shown through doing them. So, even with all the negative noise that is going on in my life. Working too much, not having enough time to spend with family and friends, and barely shrimping at the end of the day to work on my own art. I can say that I am still producing art, mostly sketches and I am improving because of it. I thought about this a while back, when I draw, I tend to draw at around 50% -75% of my real time ability. I think it has to do with trying to focus and understand the fundamentals. The better I get at the fundamentals, the better my finished work will be. So when you look at my work which are predominantly sketches and doodles, using "low" concentration and think, "Meh, He's alright" and then you look at work that is done with intent you might think it's done from two completely different people.
I am enjoying the learning process with my digital work. I keep saying this, but I can't wait to get some time to look at tutorial videos on YouTube. You may be asking yourself "But Matt, you have time now, you're spending it typing this blog post" well, yes and no, I'm in the position to type this blog post, but not to spend focusing on a drawing tutorial. I do manage however to watch a few while I eat lunch or dinner. I also manage to waste time watching a YouTube station called Game Sack.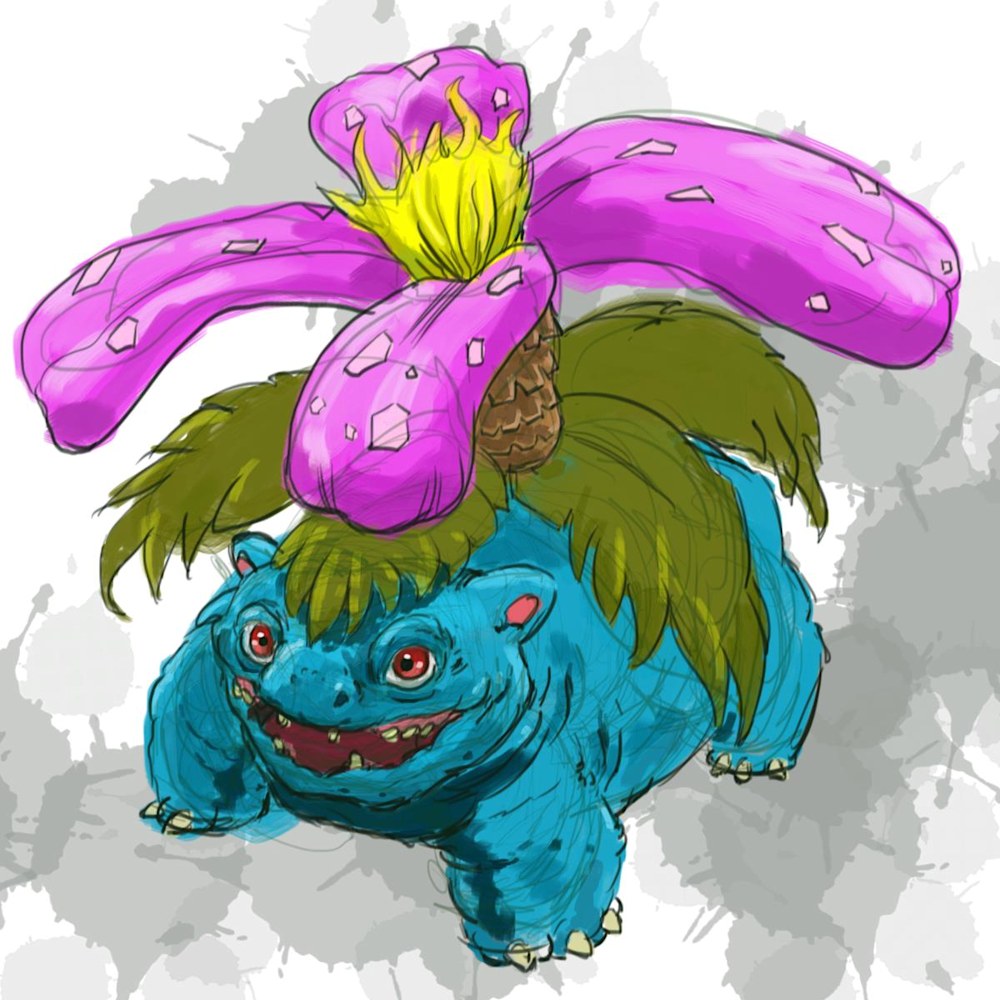 I can't get enough of those guys. The whole show revolves around them talking about old and new games. I guess it's the nostalgia of seeing old video games. They talk about video games with so much passion that it reminds me of my childhood. It makes me want to treat myself and have a day where I just play old video games. I think it would do me a world of good, plus it could even bring about a new body of work. I have considered doing a retro game night with my old friends. I thought it would be fun to hook up some old gaming consoles and play games with friends as way to socialize, reminiscence about good times, and spend time with people that are important to me.
Balance is something I should probably focus on for the month of February. I have begun a whole new routine that will slowly hack away at all these little things that take my time and attention. We all have a never ending to do list, to some a "Honey Do List" they are both interchangeable, but I've set up some systems that helps me move through all the tasks that you need to achieve. In a perfect world I would be able to do a task one after the other, but unfortunately, I am only able to work on portions of these tasks. I hope it will be more successful for February than January. January was a great month as stated earlier, there was not much more I could do to be more effective with my time. Well, let's be honest, there are moments where you waste time on your phone, on your computer, or binge-watching Netflix, but that was kept to a minimal.
Okay, you got me, I probably wasting more time than I am accounting for, I dont want to write that down. Nor do I want my phone telling me how many times I watched a silly video. The point I am trying to say is, there is room for improvement. Whether or not I am willing to sacrifice that time to be more efficient is really the question. The issue with that is I could end up sacrificing my sleep to try and squeeze out an extra hour or two of work. This can be problematic because even though I may be working an extra two hours I must ask myself, is the time being used efficiently. Experience shows that I am usually not being effective in those two extra labor hours. Typically, I am already exhausted, so I have a little bit of brain fog, and I tend to make decisions much slower. So, in times when I am painting, my actions are delayed. In the end those two hours would be better invested sleeping and making up for the time lost the next day. The funny thing is when I do get a lot of sleep, the rest translates to more effective decision making in the studio.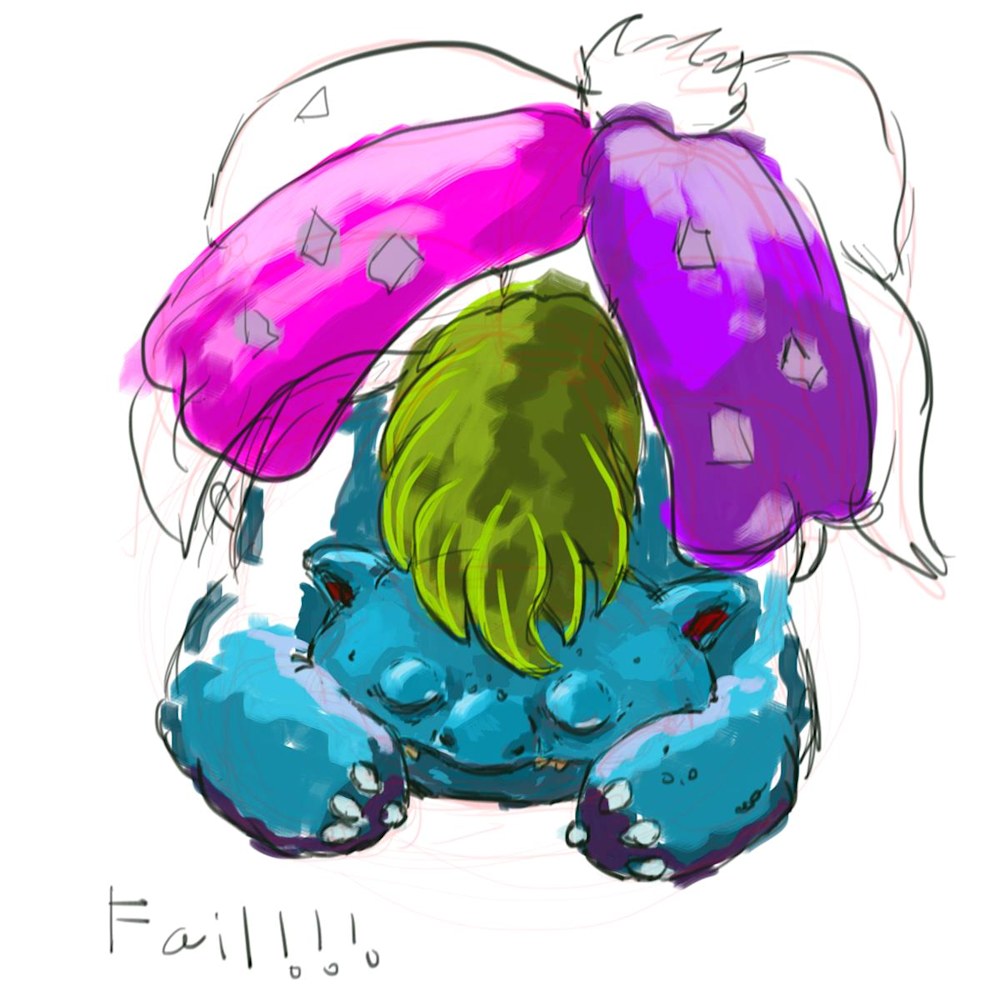 Maybe I am possibly more assertive when I am awake, there is something about being exhausted and tired that delays your ability to make decisions. Which is half the work in making art, you are making conscious decisions on where to direct your artwork. Lack of sleep hinders my ability to decide, and I slow down to snail speed. Basically, I no longer sacrifice my sleep to squeeze out an extra hour of work. I'm neither good at it, nor does it increase my productivity.
Since February is about to begin, I will soon be working on my monthly goals and milestones list. Which is basically either added onto my summary of goals or cherry picked from my to do list. If I can complete one small task or objective a day, I am satisfied with my progress. The issue I am having currently is that I am always adding new goals and tasks to work on at a rate of 2 to 1. So, I am always in a deficit with regards to catching up to my ever-expanding list of goals. I just have too many small tasks I need to do in order to reach the larger goals.
One of these goals, of which you are currently consuming, is my blog content. I want to have roughly 52 blog posts by the end of the year. So, doing approximately one a week, I can see its quite a challenge especially when the content (such as this one) lacks direction. I am going about my blog in a more organic way. I type about my art and how it revolves around my art. Of course, there can be a little bit of redundancy in the message, but that is what's going on in my life at the time. Maybe I provide some kernel of honesty to someone, speaking a truth that they can relate to. If that's the case, it's worth the non sequitur approach to my blog. I mean, look at it, in this post I am hopping around topics like it's a rough draft to some novel of an aspiring writer. But we know the "writer" isn't really a writer, he just likes to call himself one to impress women at Starbucks. Oh NO!!! does that make me not an artist? I hope that is not the case.
Anyways I hope you liked my ranting of sorts, and maybe you were a bit better off for it, or maybe not. Thank you for your time. I do appreciate it.
Cheers,
Matt