BYOB: Artist Talk
Apr 20, 2020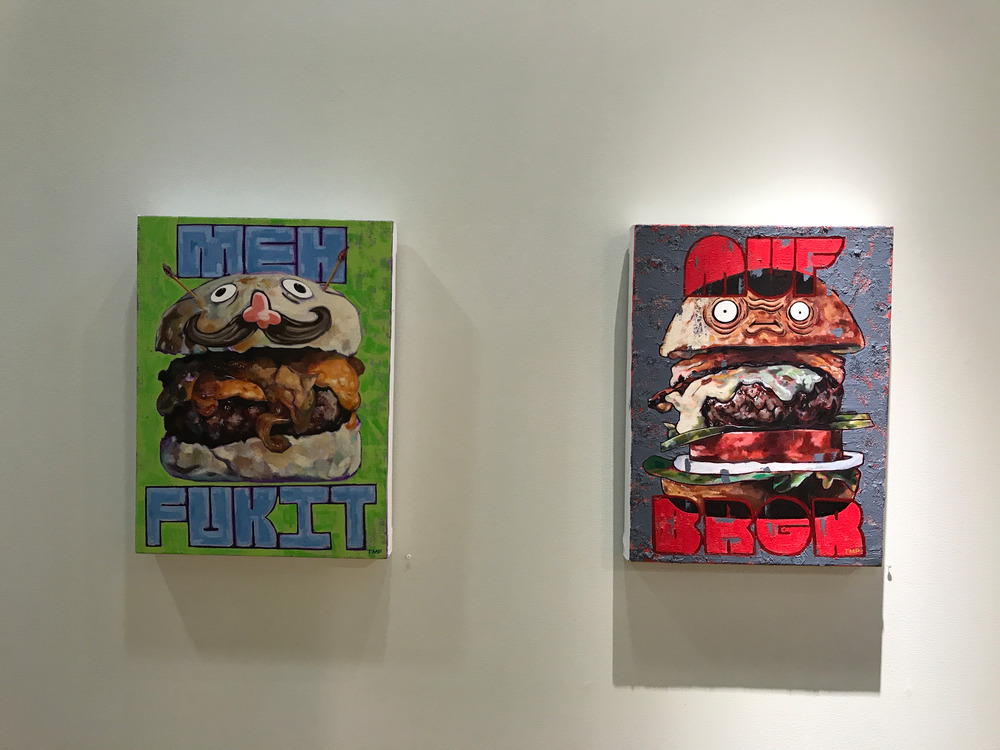 Hello True Art Believers!!!
This has been something I have been meaning to do for months now. A while back I had a solo art exhibit at the Schmidt Art Center. It was a great success and I was very honored to present my work at such a beautiful gallery. As part of exhibiting at the gallery, you were asked to give an artist talk at the opening. Well, up until the very last minute of preparing for the show I had little to no time to write and prepare for a speech.
Only on the day of the opening did I actually write a speech. It was written thirty minutes prior to leaving for the gallery and I even mentioned it in my talk. I wrote the speech because I know I would just end up talking about random things, so I had to write something down just be moderately concise. I was actually quite proud of the fact that I was the only one prepared enough to write a speech and have something with a little more substance for the people who came to the opening. That is me just bragging a little bit.
Anyways, I wanted to share with you the speech that I prepared for the event. I hope you enjoy reading it. I even have a small note section at the bottom just in case I ran out of things to talk about.
One thing I am known for is my lack of ability to formulate coherent sentences or provide correct responses to question. Just this afternoon I was asked about whether or not I wanted a sweet potato and my response was "But I need to shower"
In my head I was going through whether or not I should eat because if I did eat I might not have time to take a shower and if I shower late I might therefore be late to my opening. I was three steps ahead of what might have been probable dialog. At least in my own mind.
When I found I had to do an artist talk my initial response was to at it with humor. I thought it would be funny narrate a portion of Abraham Lincolns Getteysburg address, but swapping key words out with the word Hamburger. Then I thought about using the speech from Dwight Schrute from the Office. In the episode where he wins the Top salesman of the year award. For those that do not know about episode, he does a lot of Slamming his hand of the Podium and extreme hand movement
The next idea was to read out a rough draft for a childrens story that I have been thinking about for sometime. Called the very very VERY! Hungry Gummy Bear. Which is eerily similar to the very hungry caterpillar, except the gummy bear turns into beautiful hamburger fly.
That being said, here is what I kind of settled with the limited time I had to prepare, which was 2-2:30 today.
When I first got word that I was accepted to exhibit at the Schmidt. I was ecstatic, amazed. In my history as an artist, I do not get into shows of this caliber. Needless to say, I was pumped.
The initial idea for the show was called Cheat Day, and the premise was to paint foods that many bodybuilders would consume post competition. I added a little twist though I wanted to mix standard foods with sweets and candies. I had ideas of painting pizza with gummy bears. I even started a live stream on facebook where I would eat the food I was going to paint. Some of you may have seen me eating a pizza sundae, or gummy bear pizza right at the beginning of announcing the show. Needless to say, it lasted for about two months, maybe even less. The first time was actually quite rough, I think I puked after the livestream and had to lay down.
The cheat day idea became less and less tenable when certain life events occurred. Which you can see out in the crowd, probably wondering around somewhere.
The remainder of this speech is going to be completely improv and filibuster. (state out loud) for giggles
Notes:
Process: Grid,
intended to be ever expanding.
constructed panels,
grisaille
Paintings took 8 months or more
Big piece of 8 time mr Olympia and the idea was to do 8 pieces of him and other Olympias that matched amount of Olympia trophies they had won
111 gummy bears, say pow in Morse code
I paint a ton of hamburgers but maybe eat 1 every other month
I paint things I had to sacrifice for the show
Games, Cartoons, food, my hair
Questions?